Learn how to create an integrated B2B inbound marketing campaign.
If you've been executing campaigns through multiple channels, it can sometimes be difficult to see how it all ties together to drive your objective. It can also mean that it's not as easy or intuitive as it should be for your prospects to come towards you. This can translate to missed opportunities and clouded brand messaging.

A well-executed integrated Inbound campaign addresses these challenges.

Learn how to run more effective campaigns with this installment in our 'Growth Marketing Series'.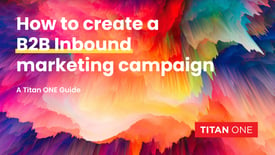 Get
the guide

.

This free resource will give you a top down view on how to execute a well integrated campaign.