Is HubSpot right for my business?
First, let's explain what HubSpot is. It's a platform that can tie together all your marketing efforts so that you can measure and see results in one place, connect with clarity into your sales process, and offer a better, more personalized experience across the board for your prospects and customers.

'Inbound' is a more helpful and human approach to growing your business. It's a method of attracting, engaging, and delighting people that provides value, and builds trust. HubSpot provides an easy-to-use way of offering this customer-centric experience across all touchpoints.
Move over, funnel.
The ultimate expression of Inbound is represented by the flywheel.
The buyer's journey is an interconnected cycle. The traditional conception of the funnel — where someone moves from marketing, to sales, to customer service, all in separate silos — is being rethought under a new customer-centric model. That new way is called the flywheel. In the flywheel, each stage of the buyer's journey is interconnected. And they feed each other, so you get leverage at every stage.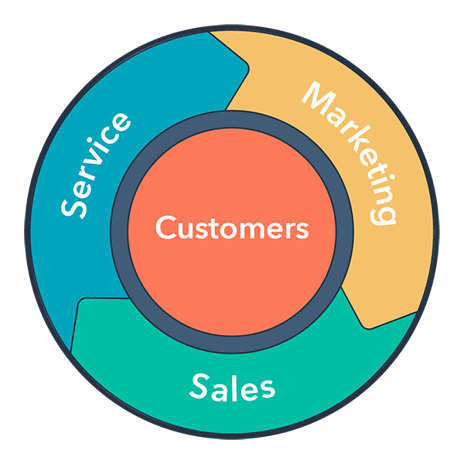 > Learn more about the flywheel.
Fully integrating marketing, sales and service is a great north star for any organization. But it's easy to get started with just one part.
Results-driven marketing.
Marketing with a sales-enablement results-driven focus makes a lot of sense. After all, generating new opportunities, and reducing churn on current customers is always a primary objective.
Here's a visual that explains how HubSpot Marketing Hub aligns your tactics to drive results. These are the tools and capabilities that you can leverage to help drive growth for your business: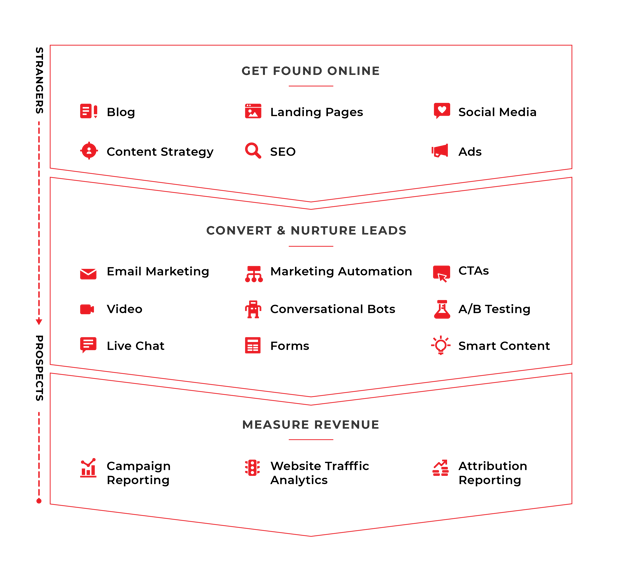 Getting started.
While it might seem complicated at first glance to embrace a unified platform to help drive growth, the reality is the opposite.
You'll end up moving away from relying on various, disparate tools and metrics that live in different places. This will make management and reporting far easier on you and your team. And it will likely result in decreased cost.
The reality is that it's such a better way of approaching marketing – you'll never look back.

Try HubSpot for 30 days, free.
Test HubSpot's marketing platform.
We'll help you set it up and show you how it works!