Learn how to tackle the five biggest challenges when trying to achieve sales and marketing alignment.
This guide is the definitive resource for learning about the challenges facing sales and marketing teams.
We'll discuss:
What goes wrong during marketing-to-sales handoff

Why disparate systems are impacting your efficiency

Where your data is going awry

Who suffers in the battle of the MQL

When running ABM campaigns makes sense

And most importantly, HOW to fix these issues and align your teams!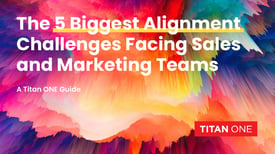 Get
the guide

.

This free resource demonstrates how sales and marketing teams struggle to align goals, expectations, and processes — and how to overcome those challenges.